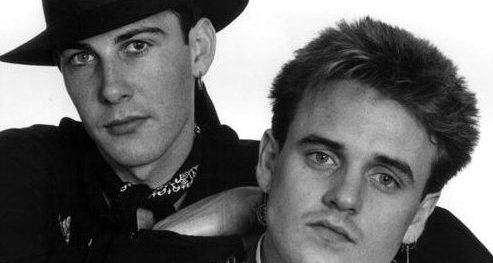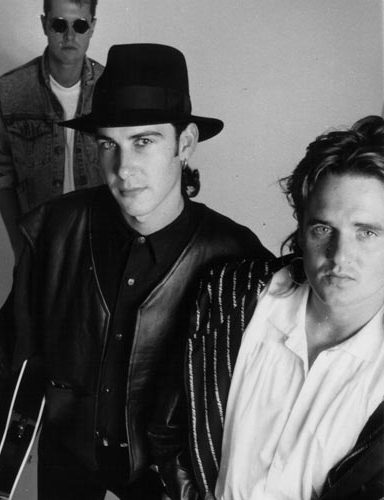 Core line-up;
John Douglass – Songs, Rhythm Guitar, Vocals
Steve Hogg – Lead Vocals
Phil Rice – Drums
Mike Rogers – Bass

Also featured;
Guitarists – Kit Morgan, Stewart Watkins, Paul Berrington, Rob Allen
Keyboards – Matt Porter, Tim Walter, Andy Price, Mike Oxenham
Bass – Rich Wilson
Sax – Al Walker
Photos by Martyn Williams.
Formed in Bristol, UK, in the mid 1980's, Kid Sinister were based around the classic song writing of John Douglass and the passionate vocals of Steve Hogg.

The band played regularly around the South West and eventually their popularity spread around the southern UK in cities such as Oxford and London.
Despite courting from the major labels they released their debut 12″ single 'Sugar Rae', on the independent Sons of Art Records and were described as 'the thinking persons pop band' by Venue magazine. However, despite continued interest the band called it a day in 1990. 'It was the end of an era and a good time to stop', says John Douglass now, 'commercially we may have had further to go but musically it was time to move on'.

However, interest in the band remains strong thanks to our German and Japanese friends.

One of the tracks on the Sugar Rae 12", The Cradle Born, has become a cult classic and is now selling on eBay for £50 a turn. The track was re- released on a German CD compilation album, 'The Sound of Leamington Spa – Volume 5' available from Firestation Records. Sons of Art have now reissued all the Kid Sinister studio recordings on one album, The Complete Studio Recordings'. It includes the original version of 'The Cradle Born' recorded at the famous Sam Studios with producer Steve Street. It is available online via 'Bristol Archive Records, Amazon or iTunes. You can also stream at Spotify.

In addition Bristol Archive Records released a live compilation of previously unavailable songs 'Unreleased and Live' in 2009. This is a great compilation and reminds their many fans what a storming live act they were. This is also available online via 'Bristol Archive Records' or iTunes, Amazon
You can also stream at Spotify.
Kid Sinister also feature in new Bristol Archive Compilation 'Western Stars (The Bands That Built Bristol Volume 4)