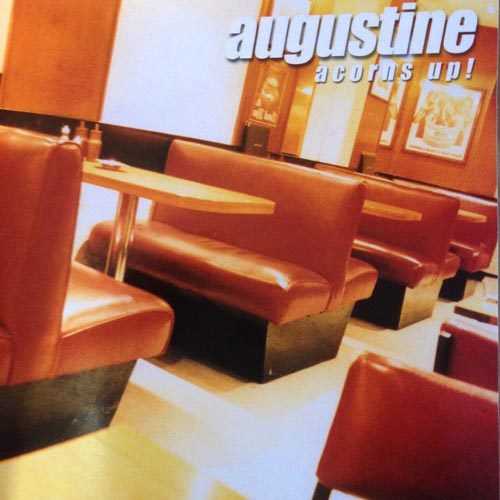 Steve Hogg – vocals, guitar
John Douglass – guitar, vocals
Dave Lewis – bass ,vocals
Paul Quinn – keyboards
Paul Wigens – drums, percussion
Photos by Phil Nicholls.
Built around the song-writing talents of John Douglass and Steve Hogg, Augustine were formed in 2004 and featured current or ex members of a bewildering range of artists from; The Slits, Grand Drive, Cousteau, George Duke Band, The Pop Group, The Blue Aeroplanes, Kid Sinister, MoFunk, Blurt, The Shrinks and Wushcatte.

'Steve and I have worked together for years but this was the first time we had fully shared the song-writing responsibilities and immediately we felt we had something special' says John. 'The themes vary but reflect what had happened in our lives since we last released an album. A few births, deaths and divorces, the heavy stuff that makes you think and reflect, I suppose. Overall though it is an optimistic album, I think!'

'The band came together naturally, we knew this line up would work and it did.' comments Steve. 'We liked to find a groove and go for it while it's still fresh. We were more interested in the overall feel than aiming for some sort of sonic perfection. Besides, the hardest part was freeing up everyone's diaries so we could be in the same room at the same time, we had to work quickly!'

Their debut album, 'Acorns Up!', released on the revived Sons of Art Label in March 2005 received excellent reviews and was described as a 'future classic' with comparisons to amongst others Aztec Camera, The Lotus Eaters and Crowded House. This was followed by a successful wiz around the festival circuit. After a break, they began work on the 'difficult' second album in the autumn of 2005, which was scheduled for release on Sons of Art records but never completed, there's a theme developing! One day they may see the light of day! Augustine last gigged in 2007, however the individual members still play in various line-ups with each other and Paul W and Paul Q feature on the latest album from John and Steve (aka September Song) out now!.
The Augustine album, Acorns Up!, is now available to download or stream from the usual outlets; Spotify, Amazon, iTunes etc. or buy CD from here.