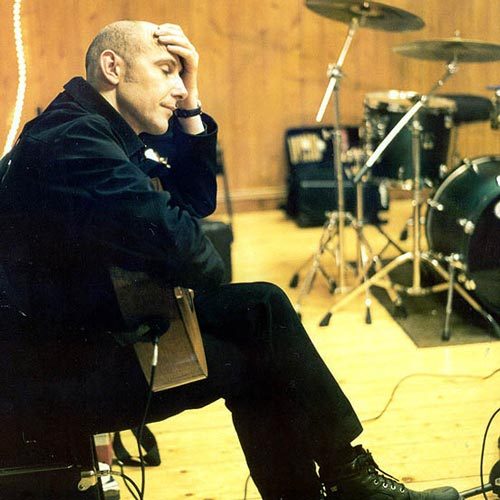 Photos by Phil Nicholls
John was inspired inspired to perform and write songs after hearing 'Hot Love' by Marc Bolan & TRex and witnessing a storming version of Ian Hunter's 'Once Bitten Twice Shy', by school band Humph, featuring Wayne Hussey, later of The Mission. John's first musical adventures were as part of the duo 'The Marbles' with Steve Pearce. They had a lot of enthusiasm but no hits, although they both agreed 'Swim Girl Swim' should have been massive.
They split after Steve revealed that he had spent the proceeds from their last concert on a pair of Peter Bonetti goalkeeping gloves. John then flitted between solo careers and fronting such groups as Henderson's Arctic Army and the Rockabilly revivalists, 'The Daddyos'.

For reasons which are too complicated to explain, in the early 1980's John changed his stage name to Gagg Henderson. Gagg also decided that he wasn't a songwriter but a 'Spiritual Plumber'. Gagg made his debut at the Old Profanity Showboat, better known now as The Thekla.
It was a boat that had been brought by Bonzo Dog Doo Dah Band Singer Vivian Stanshall and his American wife Pam. They had the idea of converting this old boat into a floating theatre and sailing it all around the World as a mobile theatre space. Great idea but it never got beyond Bristol where it was first docked. Bristol's gain, the World's loss.
Gagg made his Radio debut on BBC Bristol's Search for a Star' sponsored by Babycham! The show was compered by Radio One DJ Paul Burnett who conducted a long interview with Gagg about his 'Dutch roots' and 'gypsy jazz heritage'. Anyway, Gagg's fans seemed to be very drunk, which didn't endear Gagg to the judges, and he was unplaced, losing to a female barbershop choir called 'The Avon Belles' and a girl playing Greensleeves on the Clavinet. (He was impressed by The Avon Belles though, 'they even had matching casual gear which they all wore to the sound-check', you can't compete with that!)
Gagg's career never really recovered from the blow of losing the talent contest and he ended up 'going back to Holland' and we've not heard from him since.
More to come……